Glamping at Festivals
A 5 metre bell tent at a festival the essence of Glamping.
Our Festival tents have been proving popular among festival organisers.  We have been hired to pitch up at festivals in and around Cornwall, building great connections keeping services local.
Our bell tents allow up to 4 people sharing, all set up ready for your arrival allowing you to spend time with friends, the reason you want to come without the mundane task of setting up camp.
Festivals This Year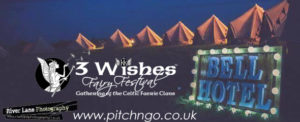 Book a magical Bell Hotel at the 3 Wishes Festival. For more information on the festival please click the logo. If you would like to book a bell tent for festival click below. (in the campsite box please put the name of the festival)